Biometric ID photos / passport photos cost 14,-€
Biometric passport photos are already necessary for babies.
Biometric passport photos cost € 14 per person.
For an appointment with 3 people, the total amount is € 36.
For an appointment with 4 people, the four picture sets cost € 44.
For every additional person I charge 11, – €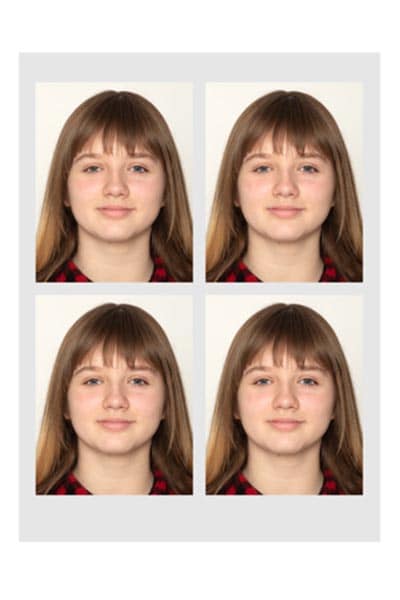 Do you need biometric passport pictures for an identity card or passport?
Call 02305 970 88 38 and make an appointment.
Appointments on the same day (sometimes immediately) are possible. 
Bookings for biometric passport pictures also possible online.
For some years now, biometric passport photos /  ID photos are required in official documents such as identity card, passport, driving license. Please note that even babies need a children's passport with a biometric passport photograph for traveling abroad.
You need a biometric passport photo for a temporary ID card.
Get the required documents for you holiday processed early enough, as the processing time, and ID Card cost can differ from city to city. It is a 5 minute drive from Fotostudio Keepsmile to the Castrop-Rauxel city hall (community office). The local underground parking lot allows one hour free parking (blocks A + B) Be sure to take a ticket! The ticket machine can be found at the entrance to block B
What is the cost of biometric passport photos?
The price for four biometric passport photos is 14, – €. Choose a min. of three shots of the image that you want. A simple beauty retouching is of course included in the price. You can find information on the beauty retouch below this text – please click on the link. Which includes the beauty retouching (German).
You can get your Passport Photographs immediately. Nevertheless, you need to make an appointment in advance for the shoot.
The passport photographs can be taken immediately. How ever you need an individual appointment. I don't want that you to face a closed door or to have wait because I´m in the process of taking pictures for another customer.
The cost of the identity card can differ from city to city. The city authorities also offer passport photo machines where you can take biometric passport photo's yourself. These of course are cheaper than in a professional photo studio. You should consider whether you want to have biometric passport photos from a vending machine or from a professional Photograph. Please don´t forget, documents often have a validity of 10 years.
Do I have to look serious for the biometric passport pictures?
No, you may have a friendly or a  relaxed expression – just do not laugh. For biometric passport photos, there are certain criteria that must be observed by you and me. For the correct dimensioning I have a special software. Which ensures the correct ratio of chin to max. head height. Also no teeth should be visible. The same rules also apply to babies, although in this case the implementation of the rules is not as strict.
CAS-Pass holders receive a discount of 25% on the price of biometric passport pictures.
The opening times and telephone number of the Community Office Castrop-Rauxel can be found at this link.
Photos for a visa
Of course, I can also create pictures for a visa. Please check with the embassy of the relevant country as to what requirements must be observed, eg dimensions, seating position, background color, etc.
Very often the rules differ from country to country.
Should you have any further questions, please call or email me.
---
What is included in the beauty retouching
For application photos and passport photographs (included) there is a beauty retouching. It comprises the reduction of eye rims, dark circles under the eyes,  small wrinkles and 'disposal' of pimples / skin blemishes. When you have chosen the image you want, from those displayed on the screen, we can discuss what needs to be done in detail.
I only brighten up a piercing scar a little – upon request. In this way, it is not immediately visible.
When you have chosen the image you want, from those displayed on the screen, we can discuss what needs to be done in detail.